Help write the next chapters of our
Books Between Kids story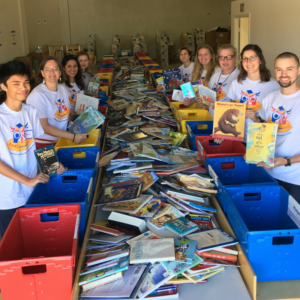 What is the Book Brigade?
The Books Between Kids Book Brigade is a team made up of volunteer leaders who are committed to the mission and vision of Books Between Kids. They play a foundational role within the organization by helping to lead and facilitate volunteer activities and to promote the mission of Books Between Kids within the community.
What does the Book Brigade do?
The primary role of a Book Brigader is to help facilitate volunteer shifts at the Books Between Kids warehouse. Book Brigaders will work with Books Between Kids staff members to welcome, train, and assist volunteers with the many operational tasks that go on during a typical volunteer opportunity. Book Brigaders will commit to serving as volunteer leaders at least 2 times each academic semester. Book Brigaders are our veteran volunteers that help new volunteers "learn the ropes" at the warehouse and lead the way as our over 1,000 volunteers work to ensure that hundreds of thousands of books are ready to go home to Houston kids at the end of the school year!
Who Can Become a Book Brigader?
Book Brigaders must be at least 16 years old, and have volunteered at least once at Books Between Kids.Book Brigaders should be somewhat familiar with the sorting process at the warehouse and have strong leadership skills. Before beginning, each new Brigade member will attend a brief orientation session at the warehouse and should be able to commit to serving as at least two Book Brigade shifts a semester (or 4 times a school year).
Ready for the next chapter?
If you are a volunteer who feels passionately about our mission here at Books Between Kids, we would love to have you as one of our Book Brigaders. It is a great opportunity to get more involved in our mission and to become a leader in our effort to fight illiteracy in Houston by ensuring that every child is a book owner!
Click here to submit an online application
If you have any questions, contact us:
volunteer@booksbetweenkids.org
(832) 831-1402 ext 801